Regular price
Sale price
$10.85 USD
Unit price
per
Sale
Sold out
This IR kit includes a TSA1200 module and a IR remote controller and also the connection cable. It can works with those audio amplifier boards which has a BVC port. After connected the TSA1200 to the audio amplifier board BVC port, user can use the IR controller control the audio volume +/- and forward/rewind the music or play/pause the music.
There also have 5 buttons on the board. User can control the audio amplifier board by press these real buttons. User can also connect their own external buttons to the TSA1200. All 5 buttons share the same GND pin.
NOTE: Some old batch bluetooth amplifier board may need update the Bluetooth PSR file before works with TSA1200. Contact us to get the updated PSR file.
NOTE: All the international shipping method can't contains battery in the package. We have removed the IR controller cell battery. You need buy a CR2025 cell battery for the IR controller.
People can design their own controller to control the amplifier board volume +/- and forward/rewind the music or play/pause. According this BVC protocol.
BVC Protocol:
Port name
Pin name
Direction
Pulse Output time
Description
BVC
5V
-
                               
 
GND
-
 
 
INC
Digital Out
100ms~500ms
Forward
DEC
Digital Out
100ms~500ms
Rewind
INC
Digital Out
800ms~1500ms
Volume +
DEC
Digital Out
800ms~1500ms
Volume -
INC+DEC
Digital Out
100ms~500ms
Pause
SEL
Digital In
 
N/A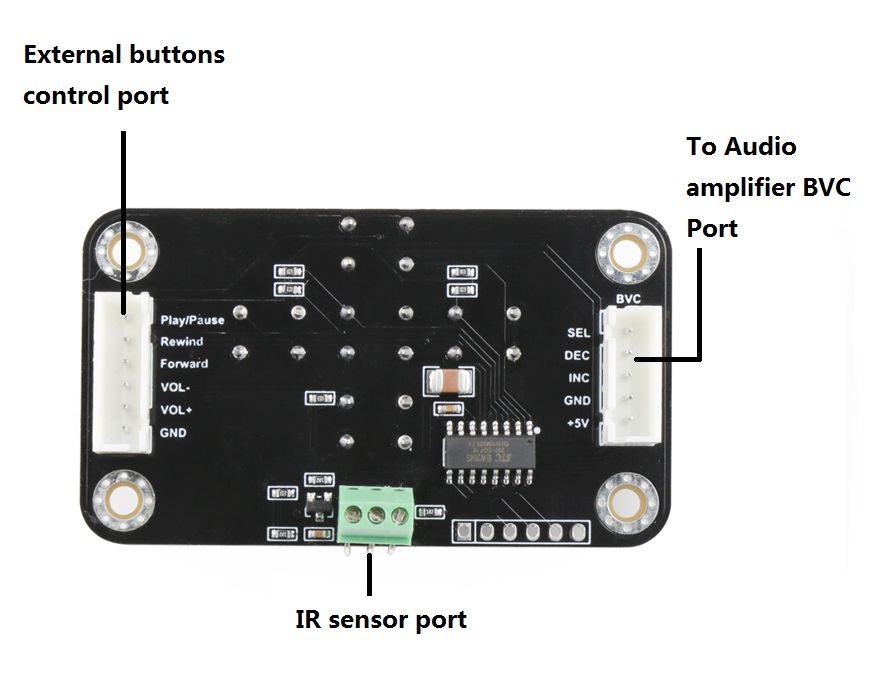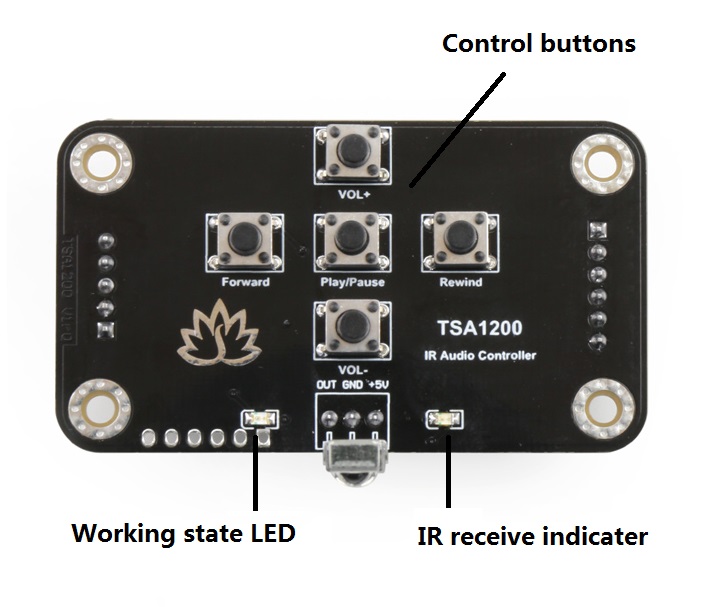 The IR controller need to pair with the TSA1200 board before use it. We have paired them before ship them out. If we lost the pair info and need pair them again. Here is the steps:
Long press one of the button. Working state LED slow blink.
Press the corresponded button on the IR controller. Working state LED fast blink 1 second and back to solid.
Pair the next button
TSA1200 can works with these boards:
Features:
Size: 6.6cm x 3.8cm
IR audio control
External buttons port
Working voltage: DC5V
Share
View full details