Regular price
Sale price
$11.95 USD
Unit price
per
Sale
Sold out
If you want build a digital Bluetooth amplifier board. AudioB I2S Bluetooth audio receiver module is a good choice for your project. This is a Bluetooth 5.1 stereo recevier module, I2S digital output and music resampling frequency is 48KHz. Apt-X supported. We breakout pins to 2x10 2mm space male pins. You can integrate it to your project easily. This module has a U.FL connector. You can connect an external 2.4G antenna with it by using a U.FL to SMA cable.
The module PIN7,8,9,10 are I2S output pins, I2S voltage 3.3V.
7 - GND
8 - BCK   I2S synchronous data clock, It's a 2.304MHz s

quare wave signal.

9 - SD     I2S synchronous data output.
10 - LRCK   I2S word select, 48KHz. 1 - Left channel data, 0 - Right channel data.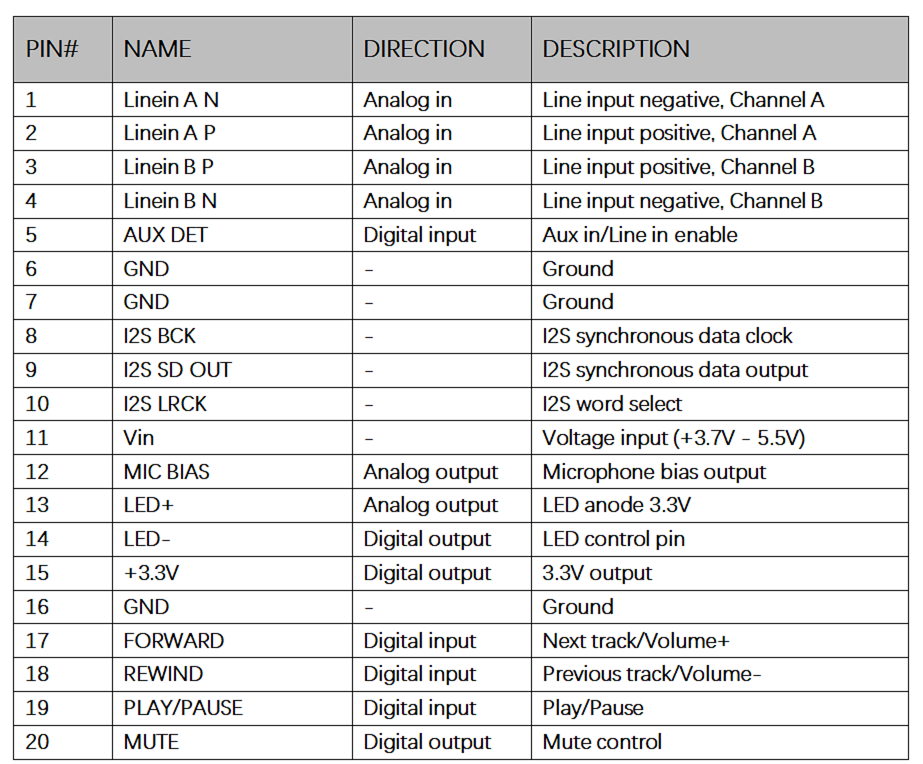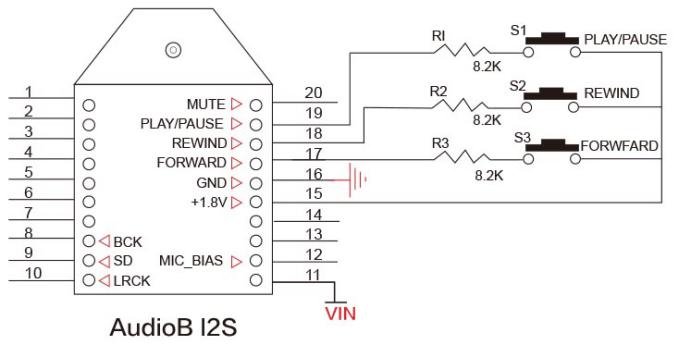 Note:
Quick press S2 to switch to the previous song, long press to reduce the volume
Quick press S3 to switch to the next song, long press to increase the volume
Press S1 to play or pause
if there have audio output, MUTE pin will be high level, otherwise, will be low level.
Features:
Bluetooth 5.1
I2S digital output
Sampling Rate: 48KHz
Bit per Sample: 16 bit
Left Justified
Justified Data 1 bit delay
Apt-X supported
Low power consumption: 5mA@5V
HFP V1.6
HSP V1.2
A2DP V1.2
AVRCP v1.4
Support for smartphone application(APPs)
Documents:
How to change the BT name
Firmware(I2S)
Share
View full details