How to Restore TSA8675 Module Default Settings
All of our Bluetooth audio amplifier and Bluetooth audio receiver user can change the Bluetooth settings by themself. Sometime, It will cause problems if you set a wrong parameters. We already have an article introduced how to restore the AudioB plus module default settings. But the newest BT5 module which based on CSR8675 chip are different. Here is the tutorial of how to load the default firmware to restore the module to the factory settings.
There are 2 ways to restore the Bluetooth module settings:
Write the bluetooth configuation file(.PSR file) into the bluetooth module
Rewrite the firmware into the bluetooth module
The following steps is introduce how to rewrite the firmware.
Hardware and Software required:
Step1:
Connect the CSR USB-SPI programmer and Tag-Connect line with an AudioB Plus convert board, then connect CSR USB-SPI to your computer by a mini USB cable and windows will auto detect it and install the drivers.
Step2:
Connect TC2050-IDC-NL's connector to AudioB5 programming port. You need to locate the single steel alignment pin of the connector into the single hole of the PCB footprint, then press down softly to engage the spring-pin contacts. Make sure the first 6 pins have a good contact with the corresponding pads. Then the blue led and red led will flash alternately.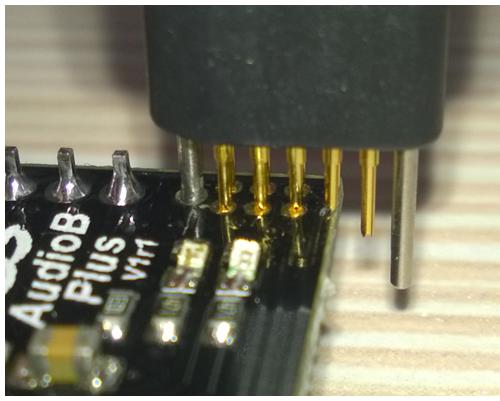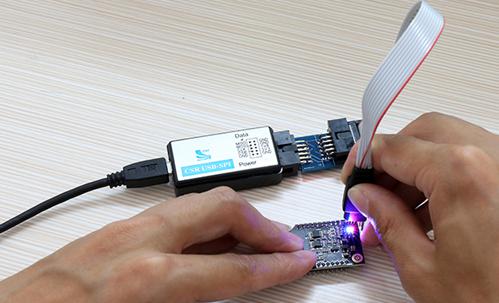 Step3:
Open BlueFlash software. Select the progarmmer(USB SPI (XXXXXX)) at the left top corner.

Step4:
Click "Stop Processor" Button. Then there will have internal flash on CSR8675 be recognised.

Step5:
Select the firmware file and click "Download" button to download the firmware.
Add Comment